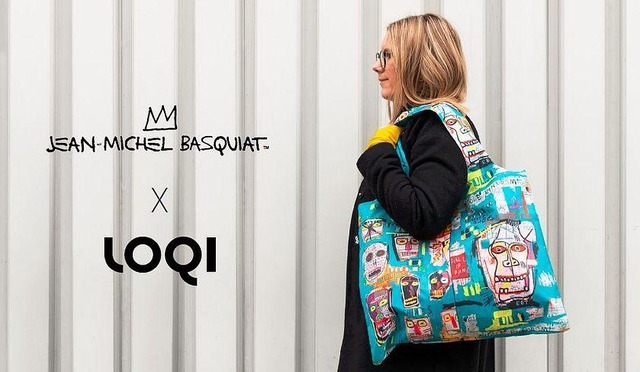 MUSEUMコレクション(ジャンミッシェルバスキア)(3パターン)
SOLD OUT
MUSEUMコレクション / ジャンミッシェルバスキア

ドスカベサス、1982年(ウォーホル)(2人が描かれたものです)
Mitchell Crew,1983(Skull)(水色のスカル柄です。)
ジャン-ミッシェル・バスキア/アンタイトル(クラウン)(黒ベースのクラウンが描かれた物です)

©Jean-Michel Basquiat Foundation Artestar、New York
JB.WA からライセンス供与


1,300円(税抜き)


ジャン-ミッシェル・バスキア/ドスカベッサス(ウォーホール)

OEKO-TEX®マーク 内側ポケット:(約)14 x 16.5 cm
バッグサイズ:(約)50 x 42 cm
ポーチサイズ:(約)11.5 x 11.5 cm

材質:ポリエステル100% 持ち手長さ:(約)27 cm
耐荷重:約20kg バッグ重量:(約)50 g

撥水加工、バッグ内側にポケット付 付属ポーチ重量:(約)5 g


詳細:再利用可能なバッグ
タグ:バスキア、 美術館コレクション、 再利用可能なバッグ


Shocking. Expressive. Controversial. Jean-Michel Basquiat is taking us to the sapid streets of New York full of mighty murals & gutsy graffiti. Feel the rapid rhythm of Big Apple with the Crown tote bag, design from Jean-Michel Basquiat. © Jean-Michel Basquiat Foundation. Licensed by Artestar New York.

The New York artist Jean-Michel Basquiat was a significant figure in the transition of graffiti art from a clandestine street activity to mainstream postmodernist art. Being Andy Warhol's best friend at the time, he is well-known for his raw gestural style of painting with graffiti-like images and scrawled text.
Add to Like via app
Shipping method / fee

Payment method
¥1,430 tax included
SOLD OUT